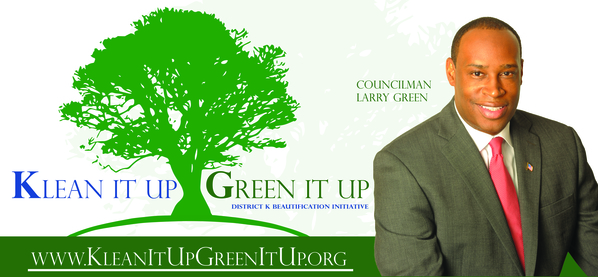 ---
Dear Friend,
We created "District (K) lean it up, Green it up" as a way to actively involve District K residents and students in community beautification on a frequent basis. Too often our local parks and streets are tarnished by pollution from liter, cigarette butts, fast food wrappings, pet waste and much more. It is time we take back our community and become proactive in keeping District K beautiful.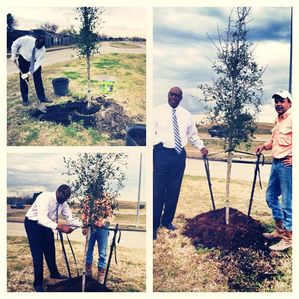 The "District (K) lean it up, Green it up" campaign focuses on cleaning up and beautifying District K. With tree plantings, community gardens, recycling, opening up farmer's markets for fresh produce and more, we will reach the ultimate goal of branding District K as one of the cleanest and "green-est" districts in Houston.
We plan to use special events, social media and partnerships with environmental organizations, community groups and civic clubs to educate residents on how to make District K greener, healthier and more eco-friendly. We will also implement methods of cleaning up the neighborhood, while suggesting ways to maintain a green environment.
We strongly encourage our residents to get involved and become part of the solution. No one knows District K better than the residents themselves; this is why community involvement is key. We hope that you will join us in our mission and continue to beautify, educate, and keep District K clean!
Regards,
Council
Member Larry Green
---
Connect With Us Online!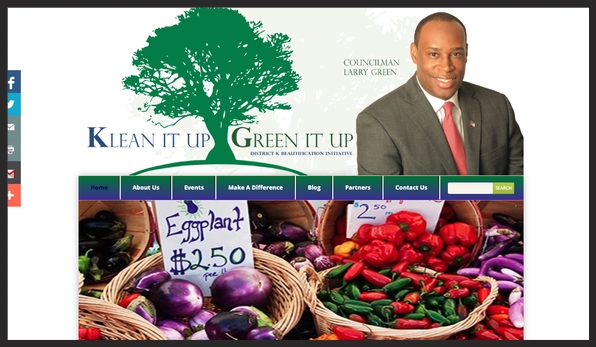 Check out our brand new website! Go to the site to learn all about the new initiative, upcoming events, our community partners, how you can make a difference and more.
---
Klean It Up, Green It Up Kick Off Rally!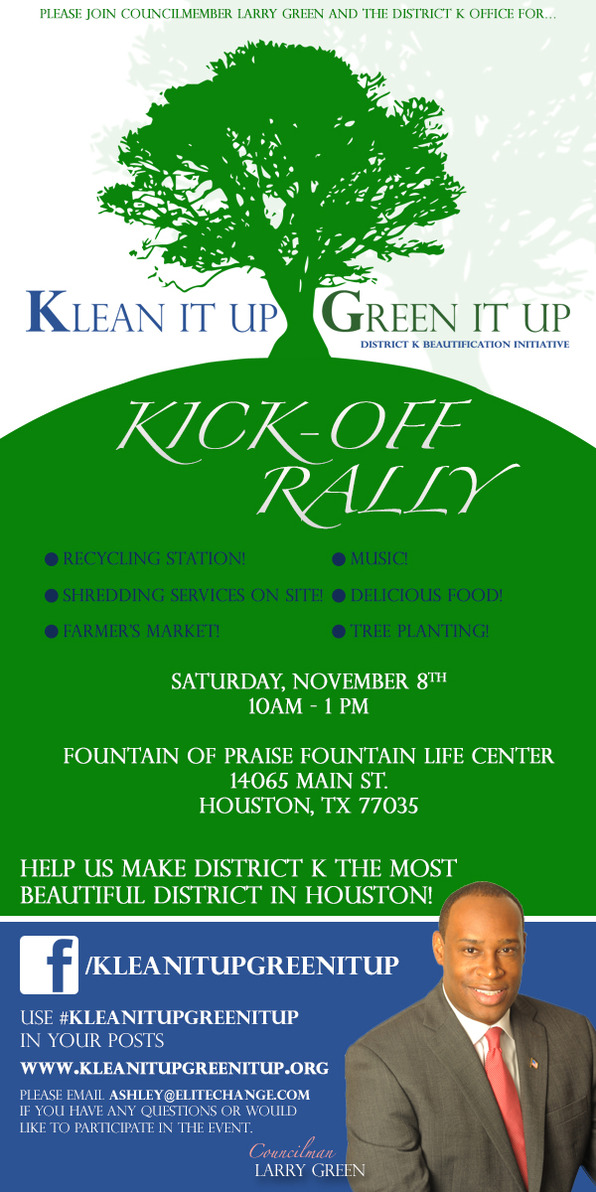 Please Join Councilmember Larry Green and the District K Office for
Klean It Up, Green It Up
A District K Beautification Initiative
KICK OFF RALLY!
Recycling Station | Shredding On Site | Farmer's Market
Music | Delicious Food | Tree Planting
Saturday, November 8th
10 AM – 1 PM
Fountain of Praise Fountain Life Center
14065 Main St.
Houston, TX 77035
Help Us Make District K The Most Beautiful District In Houston!

www.facebook.com/kleanitupgreenitup
Use #KleanItUpGreenItUp in your posts!
Please email Ashley@elitechange.com if you have any questions or would like to participate in the event.