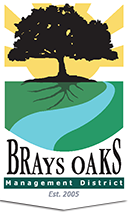 The Brays Oaks Management District is pleased to announce that we will be installing District ID Markers in seven locations on District medians beginning this week. Crews will be on site in select medians to begin drilling the foundation piers. Rebar and concrete pouring will follow and then the signs will be erected the week after next once the concrete piers have set up. The current locations are as follows:
Gessner at S. Braeswood
Bellfort at Roark Rd.
Post Oak at Gasmer Dr.
Braeswood at Hillcroft St.
Hillcroft St. at Bissonnet St.
Bellfort Ave. at Stanwood Dr.
Bissonnet St. at S. Braeswood
More locations are being identified and another set of District ID Markers will be installed later this year or in early 2021.