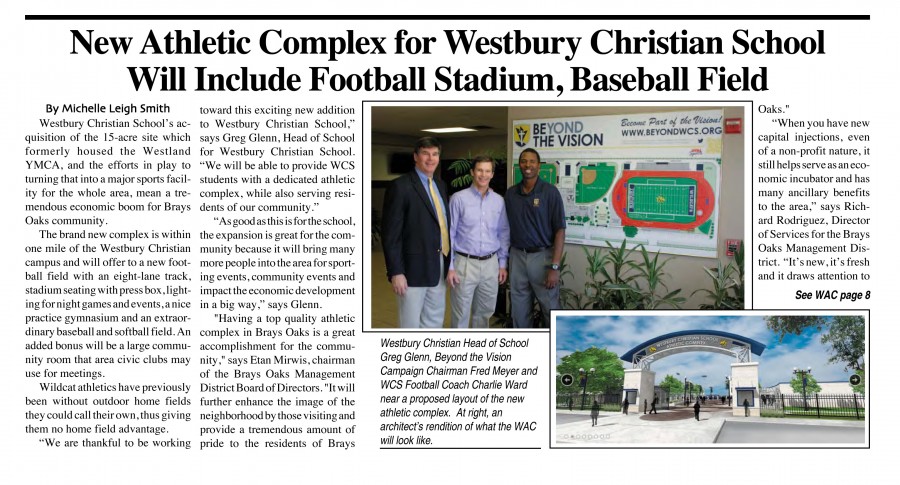 Westbury Christian School's acquisition of the 15-acre site which formerly housed the Westland YMCA, and the efforts in play to turning that into a major sports facility for the whole area, mean a tremendous economic boom for Brays Oaks community.
The brand new complex is within one mile of the Westbury Christian campus and will offer to a new football field with an eight-lane track, stadium seating with press box, lighting for night games and events, a nice practice gymnasium and an extraordinary baseball and softball field. An added bonus will be a large community room that area civic clubs may
use for meetings.
Wildcat athletics have previously been without outdoor home fields they could call their own, thus giving them no home field advantage.
"We are thankful to be working toward this exciting new addition to Westbury Christian School," says Greg Glenn, Head of School for Westbury Christian School. "We will be able to provide WCS students with a dedicated athletic complex, while also serving residents of our community."
"As good as this is for the school, the expansion is great for the community because it will bring many more people into the area for sporting events, community events and impact the economic development in a big way," says Glenn.
"Having a top quality athletic complex in Brays Oaks is a great accomplishment for the community," says Etan Mirwis, chairman of the Brays Oaks Management District Board of Directors. "It will further enhance the image of the neighborhood by those visiting and provide a tremendous amount of pride to the residents of Brays  Oaks."
"When you have new capital injections, even of a non-profit nature, it still helps serve as an economic incubator and has many ancillary benefits to the area," says Richard Rodriguez, Director of Services for the Brays Oaks Management District. "It's new, it's fresh and it draws attention to the local area and adds to the synergy and excitement of the revitalization of the area."
Fred Meyer, vice president at MC Management, has accepted the chairmanship of the effort. He was asked by Glenn to lead the project development because of his community involvement and experience. Meyer, a fourth generation Houstonian and father of three, was a finance major at the University of Texas, and has spent the past 35 years working in his family's real estate business, MC Management and Development, Inc. Several of his family's properties are in or near the Brays Oaks Management District and a short distance from Westbury Christian School, including the SouthHill Center, Maplewood Square Shopping Center, and the Bank of America Building.
"WCS is in dire need of this new athletic complex," Meyer says. "This new complex will definitely level the playing fields with the other schools in their conference and I know the students,  coaches, staff, and parents are so excited to finally have a true home field," Meyer adds.
"But that is only the beginning of the story for WCS, as moving to this new complex will free  valuable space to expand the academic offerings and to grow the school. And equally as important, this $12,000,000 investment in the Brays Oaks community will add to the momentum that is building in the revitalization of this area. This facility will also play host to many summer athletic camps for area kids and other community events.
"Families from other parts of Houston will come to the WAC to watch their kids compete in various athletic events and will notice the positive changes that are occurring in this District," Meyer says.
"So, this project is a game changer not only for the future of athletics at WCS, but also for the school's academic programs, and for the entire Brays Oaks Management District.
Meyer has put together an all-star team. Tellepsen Construction has been chosen to be the contractor because of their track record of more than 100 years of building projects for non-profits. "They are very community oriented and they will do everything they can to deliver at a reasonable price," Meyer says.
PBK Architects has a division that does nothing but sports facilities and we are excited about the plans they've drawn up so far. "They know this business backwards and forwards and they have all the answers," Meyer says.
He's most pleased to have the leadership of Coach Charlie Ward, a Heisman Trophy winner from Florida State, and the support of Ward's coach, Hall of Famer Coach Bobby Bowden, who came to WCS recently for the Tribute to Excellence Award dinner.
"Charlie Ward is part of the secret that not that many know about Westbury Christian," Meyer says. "The quality of teaching and mentoring those kids get is phenomenal. I think Charlie  Ward is arguably the best athlete we could have to set an example for the students."
Professional fundraiser Carole Sue "Sukey" Fenoglio is advising the group. Fenoglio raised $148 million dollars for Episcopal High School. She is a powerhouse in the fundraising world and has won both the 2010 Byron Welch Award for Lifetime Achievement in Fundraising from AFP (Association of Fundraising Professionals) and the 2010 Robert Bell Crow Award from CASE (Council for Advancement and Support of Educations).
"We're moving right along and we're in early conversations for the major naming opportunities – to name the complex itself, name the plaza, name the football stadium, name the baseball field," she explains.
The Beyond the Vision Campaign for the Athletic Complex is gaining momentum and has raised $2.6 million as of November 1. Parents, grandparents, alumni, friends, foundations, and corporations are being asked to contribute to the campaign, whose goal is $12 million.
To support the effort, call (713) 551-8100 or give online at www.westburychristian.org/support. Checks may be mailed to Westbury Christian School, 10420 Hillcroft, Houston, Texas 77096.