By J. D. Herman
A few blocks before Gessner Road, on the northside of West Bellfort, is yet another diverse foodie option in the Brays Oaks Management District–the fabulous Komchop Restaurant. Komchop roughly translates to "come eat" in the West African dialect of owner Kehinde Sule's native Nigeria. Also known as just "Chef Kenny," Kehinde brings her affable nature to the inspired Nigerian and West African dishes on the menu, saying, "I wanted to create a restaurant where people felt at home." She has succeeded. The names and spice notes of the dishes may be unfamiliar to the average Houstonian but take one bite and you will know Chef Kenny is serving up some of the city's best comfort food.
I stopped in for lunch and was immediately greeted by the warm ambiance of the clean and welcoming atmosphere. A server met me with a smile and helped me explore a menu full of intriguing soups and rice dishes. It was a difficult choice as the pictures all looked amazing! I was torn between Jollof Rice, the Okro Soup (okra) or the Banga Soup (made with palm fruit, turkey, crayfish, beef and native spices) that was suggested by Chef Kenny. Eventually, I decided I would just have to make multiple visits and ordered the jollof rice with chicken and plantains.
The dish came out after a short wait and immediately the aroma of the sweet and spicy jollof rice seasoning made me smile. If the dish tasted half as good as it was fragrant, I would be a very happy customer! Well, it exceeded expectations. The chicken was tangy and expertly seasoned, and the spicy jollof rice was exceptional. The plantains had a wonderful sweetness that balanced out the spice notes. I was only a few glorious bites into my meal and knew I would be coming back soon to try other options.
It was just a week later that I stopped in again for a second lunch, this time opting for the Okro Soup. You can choose your protein and I decided beef was the way to go. The server encouraged me to also order a side of fufu to accompany the soup, which turned out to be a great suggestion.
Variations of fufu, or foufou, can be found throughout West Africa. Komchop makes a fufu that has a cassava and yam-like flour consistency. Komchop's fufu it is perfectly sticky and not too sweet. I was reminded of chicken and dumplings but instead of being submerged, you will use this giant dumpling as a finger food to dip and sop your way through a hearty bowl of their soup offerings.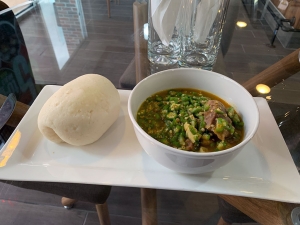 Any of the finger foods at Komchop will be presented along with a silver water bowl to rinse and clean your hands, a thoughtful and wonderful tradition. This is the place for your kiddos if they always eat with their fingers, as eating fufu with your hands is expected. Truth be told, dipping your fufu in a spicy bowl of Okro Soup is really the best way to enjoy the foods at Komchop.
Manager Evi Greene and Chef Kenny have done a great job offering the African diaspora in Houston a home away from home. Such is the success at the Brays Oaks location that the team now has a second restaurant on Westheimer. For now, the West Bellfort spot in the Brays Oaks Management District will have to suffice my need for fufu. I can't wait to try the Banga soup on my next visit.
Komchop Restaurant
8330 W Bellfort Blvd Suite C
Houston, TX 77071