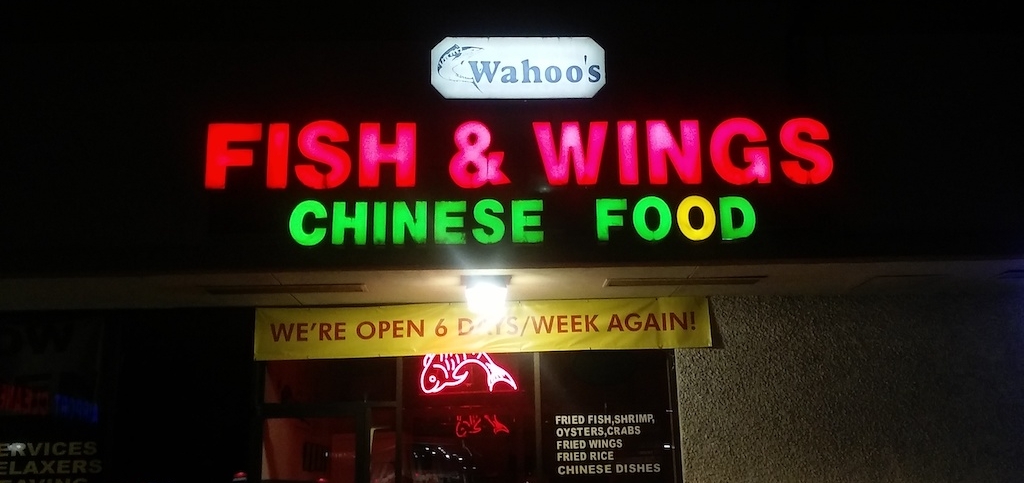 With its name and location as neighborhood mainstays for more than 30 years in the Fondren Southwest part of town, tiny Wahoo's Fish & Wings Restaurant has left a powerful imprint on the area. Serving generous portions at reasonable prices, its fried food fare has been a go-to place for take-out meals for many locals over the years.
Located at 12306 Fondren Rd. In the Brays Oaks Management District, it has been owned by Thuy-an and Alex Wallenwein since 2016. Since that time, the food has improved thanks to the culinary skills of Thuy-An, who is from Vietnam.
"My wife is a super good cook and has always loved to cook, so when I was unemployed in 2016, we saw an advertisement for the business for sale in the Vietnamese newspaper," Alex explained. "And we went and learned about the business and decided we would like to carry it on and knew we could make many flavor improvements."
Coming in as new owners led to a bit of difficulty at first.
"My face was new, so the neighbors started off not trusting us as new owners," Alex explained. "Soon we won them over because we treated everyone so nicely with great kindness. Now we have a lot of regulars."
Thuy-An has concocted her own special sauces to add to the depth of flavor for the mostly fried foods they offer. She is most proud of the General Joe's sweet and sour sauces she developed. It's so popular, she said, she is thinking about selling it as a single product.
She also has come up with her own special wings recipe, adding spices into the flour mixture to make the wings more flavorful.
Another one of the recipe changes they made was for their in-demand fried rice dishes. They began soaking the rice in water before cooking it into fried rice. It makes a big difference on both the texture and the flavor, and it is one of their best sellers.
Their son Nathan works there, too, as cook and food manager. It is truly a family effort to keep this restaurant going as they have no other employees, and they are open from 11:30 a.m. to 8:00 p.m. most days.
The pandemic has challenged the way restaurants do business, and this one is no exception. Their business actually improved as a mostly a take-out spot. Alex said their prices have always been very reasonable and that is why their customers stay so loyal.
But in the past year, the higher cost of food and supplies — a by-product of the pandemic — have made things more difficult.
Alex said the price of frying oil, for example, went up by three and a half times and chicken wings prices went up two and a half times. Seafood prices have risen as well, but the couple decided not to raise the prices on their menu items.
"We are hanging in there, hoping for better times ahead," Alex said.
The menu has expanded over the years.
Fried oysters, fried shrimp, and a variety of fried chicken dishes are offered as well as an Asian menu, including beef broccoli, peppers steak, and sesame chicken as well as lo mein and plenty of fried rice choices that can be an entree or a side dish.
Sandwiches include fried fish, fried shrimp and fried oyster varieties along with hamburgers and french fries.
Their best sellers are their fish sandwiches, party wings and family-size orders.
A taste of the fried catfish sandwich proved delightful. It was surprisingly crisp and delicious and is one of the items locals rave about in their reviews.
Other tasty items were fried shrimp and fried oysters, which have a nice hint of extra flavor in the breading.
Of course, since it is Wahoo's Fish and "Wings," one cannot leave without trying the wings as well. They are meaty and crispy and the General Joe's kind are packed with a flavorful sauce that is as good as they advertise.
Wahoo's Fish & Wing's Restaurant
12306 Fondren Rd, Houston, TX 77035
Phone: 713-729-3641
— By Arlene Nisson Lassin